Video Services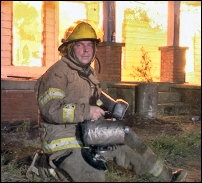 Have camera will travel...
Want to capture your live training exercise on video? Call ETT to arrange for you own department training tape. Generally we have two plans:
ETT owns the video rights - with this plan, ETT will video the live burn, free of charge and provide copies of both the raw footage and finished video to the participating department(s). The original footage would remain the sole property of ETT. Future use or sale of raw footage would be determined by ETT. (Some assistance on travel expenses beyond 300 miles may be requested.
You own the video rights - with this plan, your department will hold all rights to the film and finished video. Generally, the expense involved in this option would be around $600.00/day plus $20.00 per finished minute of video. Daily travel expenses due upon delivery of raw footage, remaining expenses due upon delivery of finished video.
Equipment: We use only Sony digital camera equipment. Some internal footage uses a digital 8 format with "night scan" which captures action in total darkness. All finished video is digitally edited on the Casablanca. Finished footage can be provided on DVD.
Liability: ETT assumes all liability for personal safety and damage to equipment.
Schedule your video: To make inquiries or arrangements for your video, contact:
Stan Merrett (toll free) 877-827-2797.