Elevated Ponds and Tanks
(for freezing applicatons)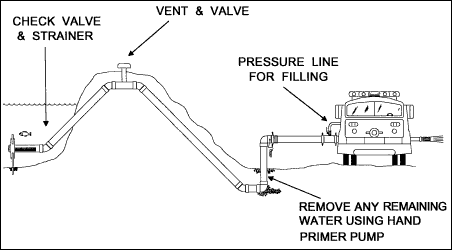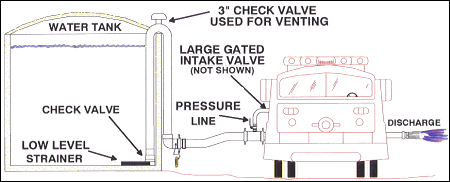 Operational Procedure for Elevated Tanks
(Prevents water loss due to drainage)
Connect hard suction.
Connect pressure line.
Slowly fill 6" pipe until overflow occurs at the upper 3" check valve.
Close pressure line and open gated intake valve.
Begin drafting, gradually opening valves until full flow is obtained.
When operation is complete, open 3" check to break siphon.
Over the Top - Dry Hydrant

Kit Components

Accessories

Dry hydrant head.
Low level strainer.
Priming tube assembly.
Two (2) 90° elbows.

6" schedule 40 pipe/ft.
double female adapters
male/female L/H adapters
flexable suction hose
priming pump assembly
Drafting Procedure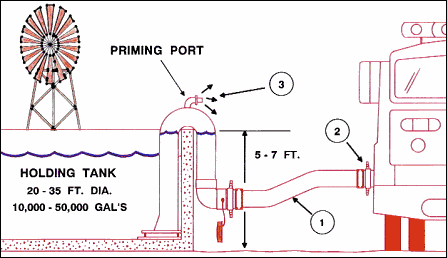 Operational Procedure for Drafting
Connect hard suction.
Open tank valve and flood hose.
Connect hand primer to top port.
Prime until pump is flowing water.
The dry hydrant is now ready.
Engage the fire pump and open needed discharge lines.
Leave primer pump connected.
Dry Hydrant Design Solutions Menu