General Video Information
ETT & Fire Videos:
As a 27 year Volunteer Firefighter and Instructor, Stan saw a need to show & teach new firefighters what was actually happening inside a burning structure. Having a hobby in video and being a Mechanical Design Engineer by profession, the idea of combining his two loves eventually became a reality. After many trials and a few melted camera's he eventually developed the right combination.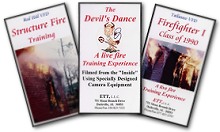 Fire Training Videos
All live fire videos are filmed using a special camera designed to withstand heat and moisture. Most videos are made using at least two cameras, showing both inside and outside action.
ETT Special Projects & Services:
Want to capture your live burn on video? See "Video Services" for details.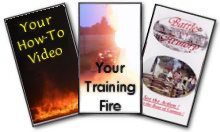 Special Project Videos
Special Project Videos include individual department videos, "How-To" videos and Civil War Reenactments.
Have camera...will travel!!!
ETT special projects also include features like "Battle for the Armory", a Civil War reenactment. Put yourself on the battlefield and hear the roar of the cannons in this two hour documentary.
Look for new videos coming soon!
ETT Guarantees Satisfaction:
Discounts: A 10% reduction will be given on all multiple tape orders.
Guarantee: All videos come with a 30 day "Satisfaction Guarantee". If for any reason you are not completely satisfied with our product, simply return the video for a full refund. If you like them please tell your friends.
Return Policy: Phone or Fax (toll free) 1-877-827-2797 prior to shipment and request a Return Authorization Number (RA#).