Dry Hydrant Flush Mount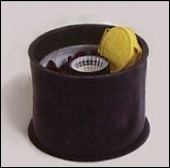 For installations where extensions above the ground are not wanted. Reduces Vandalism for problem areas. Mounts flush with ground. 18" Dia Heavy Wall Polyethylene enclosure with Cast Iron Cover. Works best with 180 or 45 Deg Dry Hydrants. Male or Female. Kit comes with Drain Screen and No Parking Decal.
Flush Mount Dry Hydrant Enclosure Kit

PART #
SIZE
DESCRIPTION
9161-000
18"
Flush Mount Enclosure
18" dia. x 20" deep
What is a flush mount?
Dry hydrant systems are generally non-pressurized and are designed for use in a drafting application. The installation of these systems on alternate water supplies can provide year-round water sources for fire suppression. Installed in strategic areas, five or more dry hydrants can become the "water supply system" for rural fire departments where pressurized systems are either not available or where lines are to small to support needed fire flows. In many cases dry hydrants are called upon to supplement pressurized systems in municipal areas where low water pressure exist or where back-up systems are desirable for emergency preparedness. Dry hydrants can also be used in tanker shuttle operations and provide an excellent source of water for pump test.
Equal ISO credit can be obtained on dry hydrants as would be obtained on a pressurized hydrant. Credit can be earned in several categories: inspection, water supply and as a water system with the installation of five (5) or more. Flows may be considered at the point of use within a 1,000 ft or may be transported to another location using a water shuttle.
Heads are designed in many shapes and sizes to fit the application. Generally most applications will have a large intake strainer located in the water source to prevent fish and other debris from entering the piping system during drafting. See "Strainers" for your specific application.
Features and Benefits
Male hydrant caps are available in snap-off or threaded rocker-lug designs. Female hydrants are all threaded rocker-lug style.
Male hydrants feature a unique conical-shaped strainer for maximum protection against debris obstruction. Flat plate strainers are available and are interchangeable. Flat plate strainers are standard on female dry hydrants.
Fire connections are made from 6061-T6 extruded aluminum and anodized black.
SST snap rings on all heads allow easy strainer removal for cleaning and maintenance.
Optional Bronze intakes available on some models for maximum salt-water protection.
All material 100% corrosion-free for long life.
All caps are bright yellow ABS for easy visibility.
Sizes and Configurations:
Available in 4 ½", 5" and 6" NH (Male or Female).
Complete assemblies available in 90°, 45º and straight using schedule 40 PVC fittings.
Sub-assemblies available with 6" Male NPT threads for use in metal pipe fittings.
Other customer specials available upon request.
Flush Kit Parts
(see list below for part numbers and description)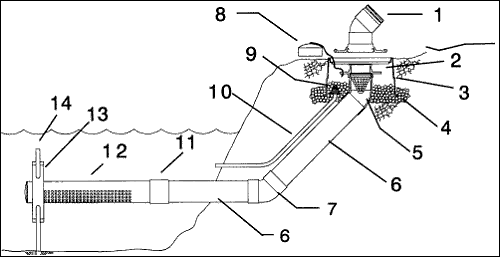 Flush Kit Parts List

Item
Part #
Description
1
9159-000
Hard Suction Hose Adapter 6"
9159-010
Hard Suction Hose Adapter 5"
9159-020
Hard Suction Hose Adapter 4 1/2"
2
9146-001
Quick Connect Adapter 6" X 6"
9146-002
Quick Connect Adapter 6" X 5"
9146-005
Quick Connect Adapter 6" X 4"
3
9161-000
Jumbo Utility Box
4
----
Gravel - Supplied by the customer
5
9140-100
6" X 45° Head Assembly
9140-200
6" Straight
6
96019-002
6" Schedule 40 Pipe
7
8385-209
6" 90° Elbow
8385-601
6" 45° Elbow
8
8384-551
Machined PVC Cap
9
9184-000
Drain Assembly
10
----
3/4" PVC Pipe - supplied by the customer
11
8384-309
6" PVC Straight Coupling
12
9143-000
6" Strainer Assembly
13
9152-001
SST Clamp Band
14
96003-939
3/4" Galvanized Pipe 5.2 Ft. Long