Flexible PVC Suction Hose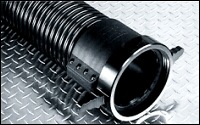 Hose made using black helical PVC Rings with transparent Silicone jacket, Full width "field repairable" Collars made from Thermoplastic Rubber - By far the best on the market. Couplings made from one piece machined 6061 T-6 Anodized Black Aluminum.
Features and Benefits
Hose
Flexible PVC and lightweight for ease of operation.
Black helix design for easier maintenance and UV protection.
Clear PVC provides a view of water flow and assists in obtaining prime.
Inner bore smooth allowing unrestricted flow.
Hose Collars
High performance injection molded polymer design ensures a 360° seal.
High-tech polymer material offers durability and reduces overall hose weight up to 12%.
Design allows quick and easy "in field" serviceability with ¼" socket wrench.
Full length collar.
Hose Ends
6061-T6 lightweight structural aluminum extruded components for maximum strength and durability.
Black anodized for protection against corrosion.
Roller "disc" bearings for maximum performance and sheer strength.
Full length shank and collar for maximum protection and strength.
Construction
All hoses 100% vacuum tested.
Design incorporates engineered polymers and extruded aluminum parts to maximize strength, durability and performance.
It has the longest shank on the market, providing protection when placed on the rack and added pull strength for vertical drafting.
Specifications
Application
Designed for drafting use only
Maximum Operating Pressure and Temperature
+30 PSI - Caution should be used to prevent hose from hot exhaust exposure as it may cause wall collapse under extreme temperatures.
-20° F to +150° F maximum operating range.
Rated at +30 psi pressure or a negative vacuum of –29 Hg. at 70 deg F.
PVC Suction Hose

Standard Hose
I.D. and Length
Part #
Long Handle Female/Male
Part #
Rocker Lug Female/Male
6" x 10"
9682-500
9682-550
5" x 10"
9682-400
9682-450
4½ " x 10 "
9682-300*
9685-350*
4" x 10"
9682-200
9682-250
3" x 10"
9682-100
9685-150
2½ " x 10 "
9682-000*
9685-050*
Cam lock, Storz and longer lengths available upon request.
*Note: 4½" size uses 5" I.D. Hose and 2½" size uses 3" I.D. Hose for maximum flow rates.
10 ft. length standard. Longer or shorter lengths available as "specials".
Rocker Lug Female/Male

Size
NST
Cam Lock
Storz
2½
9682-050
N/A
upon request
3
9682-150
9683-100
upon request
4
9682-250
9683-200
upon request
4½
9682-350
N/A
----
5
9682-450
9683-400
upon request
6
9682-550
9683-500
upon request
Rocker Lug Female/Female

Size
NST
Cam Lock
Storz
2½
9682-060
N/A
upon request
3
9682-160
9683-110
upon request
4
9682-260
9683-210
upon request
4½
9682-360
N/A
----
5
9682-460
9683-410
upon request
6
9682-560
9683-510
upon request
Warranty
ETT PVC suction hose is warranted to be free from material defects and workmanship. It is highly recommended that hose be tested and used under all known applications to assure adapters and strainers fit properly prior to emergency use.