Inake Strainers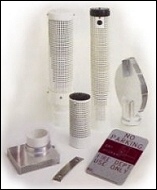 Usually a dry hydrant system will consist of two main components, the head assembly and a strainer. These two components are connected by a pipe, which carries the water from the strainer to the head. As a dry hydrant system is usually a suction supply it is critical to eliminate friction loss as much as possible. (See dry hydrant flow calculations for detail) For this reason it is important to pick a strainer with a high intake ratio. (Open hole area compared to head area) A 4:1 ratio is ideal and a 2:1 should be minimum.
The selection of a strainer is dependent upon the application and requirements to meet the needed fire flow (NFF). Factors which should be considered in selecting a strainer are: the depth of water source, type of source, flow conditions, drought conditions, flood possibilities, water source fluctuations, bottom conditions, floating debris, suspended debris, fish, Zebra Muscles, Barnacles, vertical lift and needed flow rate. Specific details on many of these concerns are provided for your consideration.
Features and Benefits
Horizontal strainers have a patented V-shaped hole pattern, which assures low suction zones. Allows 100% pull down to the line of holes at 1,500 gpm with no pump cavitation.
Optional strainer designs allow application customization to maximize system performance.
PVC strainers have optional fixed or back flush end caps. These designs are engineered to promote maximum cleaning of strainer holes during back flushing. Back flush cap is molded closed and requires some back pressure before it will open fully.
100% corrosion free materials; either PVC or Aluminum construction.
6" Horizontal strainers are designed for unique single point SST support clamp. This clamp is adjustable to fit the desired height above the bottom.
Strainers can also be made with a built-in check valve which will eliminate the danger of primer motor burnout when long dry pipes present themselves. (Maximum continuous priming time with most manufacturers is 1 minute)
Screw-on design is available for salt water maintenance applications where removal for cleaning is necessary.
Swimming pool strainers and flange kits are designed for vinyl concrete lined pools.
Size and Styles:
Horizontal PVC strainers in 6" and 8" sizes.
PVC Barrel strainers in 6", 8" and 10" sizes.
Bridge strainer and stream strainer are available in 6". They are made using aluminum sheet for rugged applications.
Check valves are available in both 6" and 8" sizes and can be adapted to any of the 6" or 8" styles.
Swimming pool strainers for vinyl liners are available in 6" and 8" sizes.