Special Project Videos
While shooting live training fires is what I enjoy best, I am also called upon to attend other events. Being a videophotogher almost any event that has action is fun and usually worthy of capture. As time permits, I edit what I feel would be of interest to others. Noted below are several Civil War Reenactment videos, which bring to life history of the past. These are both educational and entertaining and are suited for all ages.
In addition to my exploits, I have several other videos which were made by my friend Jim Maloney of Zibi Videos. Jim and I, along with several other videophotoghers, worked together in capturing Thunder on the Bay 2002. While temperatures soared on the Mobile, Alabama coastline during this shoot, it was a lot of fun.
I hope you enjoy watching these videos as much as we did in capturing the footage. As with all of my videos, ETT has a satisfaction guarantee policy. Please pass our site location on to your friends.
Battles for the Armory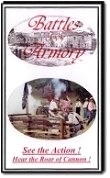 A Civil War Reenactment
Item # VBFA-98
Price $15.00
Late in the war, the northern armies caused the relocation of the Confederate Carbine Factory to Tallassee, Alabama. Two attempts were made to find and destroy the Armory. The first known as the "Battle of Chehaw", and the second known as the "Battle of Franklin". This video covers the first reenactment of these battles. Both days of fighting are included. Video - approximately 2 hrs.
Hear the Roar of the Cannon !
Approximately 200 reenactors participated using both calvary and cannon. See close up action from five cameras. Walk beside soldiers in hand to hand combat. See field doctors in action as wounded are cared for.
A historic event captured on video . . . . . A must see for collectors.
Battles for the Armory II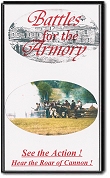 A Civil War Reenactment
Item # VBFA-01
Price $15.00
This is the second video in a series of reenactments for the "Battle of Chehaw" and the "Battle of Franklin". The Tallassee, Alabama Armory is the only Confederate ordinance facility left standing in the entire South, all others being destroyed or razed after the war. This video covers some of the 1999 reenactment and both days of the 2001 reenactment. Approximately 1 ½ hr video.
Shot near the actual battle site, this video depicts the historical story about the armory and the attempts to destroy it. Also shown is the raising of the Confederate flag over the Armory, the first time in over 134 years. This was followed by an old fashion barn dance and attended by reenactors and local towns people.
Over 700 reenactors, calvary, and numerous cannon were used during this two day battle.
Filmed using 6 cameras and covers the entire battle field.
The Battle of Chancellorsville
A Civil War Reenactment
Item # ZIB007VW
Price $19.95 - VHS
This exciting 60-minute video documents the reenactment of two engagements at the Battle of Chancellorsville: the Engagement at Hazel Grove and Stonewall Jackson's Flank March. More than just a documentary of a reenactment, professional narration, originally recorded period music, and animated maps and graphics put this video in a league of its own!
Thunder On The Bay 2000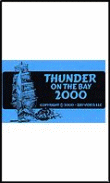 A Civil War Reenactment
Item # ZIB009VW
Price $19.95 - VHS
This 1-hour video chronicles the Civil War naval reenactment that took place May 20 & 21, 2000 at Ft. Gaines, Alabama.
Thunder On The Bay 2002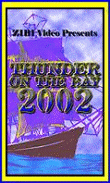 A Civil War Reenactment
Item # ZIBI015VW
Price $24.95
This dramatic, 70-minute program chronicles the reenactment of the Battle of Mobile Bay where Union Admiral David G. Farragut damned the torpedoes and steamed full ahead to engage Confederate Admiral Franklin Buchanan's meager flotilla at the entrance to the Bay.
We used six cameras to cover this event and bring you all the action - including several cameras on board the ships. Dramatic sea and land battles at Ft. Morgan and Ft. Gaines and outstanding performances by reenactors (plus some additional surprises) make this one of the best programs we've ever produced.
Grantsburg 2000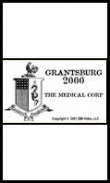 A Civil War Reenactment
Item # ZIB012VW
Price $19.95 - VHS
This 47-minute program was shot in near Grantsburg, Wisconsin, and covers the Civil War Weekend held there in August. It contains three dramatic and graphic medical sequences of the demonstrations staged by the 4th and 16th US Medical Corps, and the evening candle-lit medical sequence is especially so.
Civil War Weekend 2001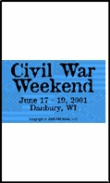 Behind the scenes preparation
for a Civil War Reenactment
Item # ZIB014VW
Price $19.95 - VHS
This 1-hour program not only documents the reenactment held in Danbury, WI, it also gives you a behind the scenes look at what it takes to put a reenactment together... including preparing the battlefield and testing the explosives!
Follow Maj. Phil Cudd and the 4th US Medical Group as they meet and plan their event and finally bring it to fruition at Forts Folle Avoine, a historic fur trading post and park in northwestern Wisconsin.
Boone Train Robbery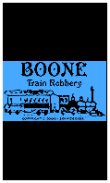 A Train Robbery Reenactment
Item # ZIB010VW
Price $14.95 - VHS
A 30-minute video that documents the train robbery reenactments on the Boone & Scenic Valley Railroad in Boone, IA.
As an extra bonus we've included a 4-minute piece on the railroad and some "behind the scenes" footage showing how we photographed some of the train sequences.
We will have more videos soon.
Check back often for new special project videos!