Dry Hydrant Vandal Concerns
Male Dry Hydrant – Locking Cap Feature

All Male Dry Hydrants can be prewired with a locking cap cable upon request. Locking mechanisms can be tear away tamper seals (normally seen on fire Extinguishers) or break away locks (as seen in the picture). Locks not included. To order request "Special W/Locking Cap Feature".
Price: Add $7.00 to the cost of selected Dry Hydrant.
Flush Mount Dry Hydrant Enclosure Kit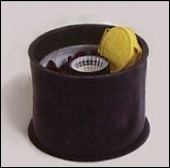 For installations where extensions above the ground are not wanted. Reduces Vandalism for problem areas. Mounts flush with ground. 18" Dia Heavy Wall Polyethylene enclosure with Cast Iron Cover. Works best with 180 or 45 Deg Dry Hydrants. Male or Female. Kit comes with Drain Screen and No Parking Decal.
Flush Mount Dry Hydrant Enclosure Kit
PART #
SIZE
DESCRIPTION
9161-000
18"
Flush Mount Enclosure 18" dia. x 20" deep
Dry Hydrant Design Solutions Menu