About ETT, LLC
About ETT's Founder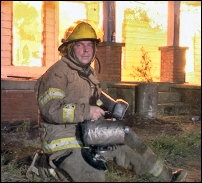 Stan Merrett is the owner and founder of ETT, L.L.C.. He holds an Engineering Degree from Auburn University graduating in the class of 1966. Stan started his engineering career in the aircraft industry working with light weight structural Aluminum. Later his career shifted to work in the water industry. Recently retired after 39 years with Neptune Water Meter Co. (known as Schlumberger for a few years) Stan developed a complete line or products devoted to water supply in the fire industry. A corporate decision to divest itself of the fire line provided the opportunity for ETT to expand into manufacturing. Today, Stan holds numerous patents on fire and water delivery products aimed at improving fire protection for Rural America.
In addition to his full time job, Stan has worked as a Volunteer Firefighter for 36 years. During this time, he served in the ranks from firefighter to chief with small departments and has first hand experience with the challenges facing rural fire departments. He is a State Certified Firefighter II, Fire Instructor II, and EMT. Currently, Stan holds the rank of Captain. He has served on the Board of Directors of the AAVFD (Alabama Association of Volunteer Fire Departments) for 10 years and the Tallapoosa Co. E-911 Board for over 20 years.
His design experience was also used in designing a thermal camera housing, which provides the ability to video inside a burning building. As a result, ETT has produced numerous live fire videos. Stan holds seminars on "12 Minutes of Decision Making", "Effective Rural Fire Fighting" and "Live Fire Training" throughout the country and has had numerous articles published in several leading journals.
Today, ETT is recognized world wide for its innovation and technology in producing products that meet the day-to-day needs of rural fire departments.